VIP - VORTAB Insertion Panel Flow Conditioner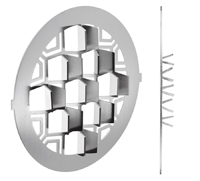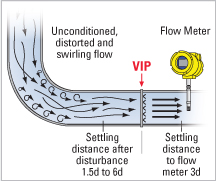 The VIP (Vortab Insertion Panel) flow conditioner completely neutralizes flow profile irregularities caused by elbows, valves, blowers, compressors, and other flow disturbances that commonly occur in piping and duct runs and cause flow meter inaccuracies. The VIP provides a swirl-free, symmetric and repeatable flow profile that flow meters require for accurate measurement.
Model VIP flow conditioners marry the scientifically proven superior performance of Vortab tab-type flow conditioning technology with the installation ease and cost savings of an insertion panel design.
VIP is particularly effective with wide-turndown and/or low flow sensitive flow meter technologies (e.g. thermal dispersion) to provide a highly repeatable flow profile during laminar, transitional and turbulent flow conditions.
Applications
Process conditioning for control valves, blowers, compressors, burners and other critical process equipment Piping with inadequate straight-runs
Processes that require repeatable, symmetric and swirl-free velocity flow profiles
Flow conditioning for calibration and/or test benches and flow meters
For pipe sizes ≥ 2″ [≥ 50 mm]
FCI endorsed for use with thermal dispersion gas mass flow meters
Specifications
Process Media: Gases
Materials of Construction: 316L stainless steel, contact Vortab for other materials
Pipe Sizes: 2″ to 40″ [50 mm to 999.9 mm] standard, larger sizes available – contact Vortab
Installation: Weld in place or flange mounted; ANSI or DIN
Shipping Weight: (approximate) 2 lbs per inch diameter [0,9 kg per 25 mm]
Ordering VIP is easy – determine your pipe I.D. and whether you will weld in place or flange mount. If you are ordering a flange mount VIP, also provide flange type and rating.
* For more information, download Transitional Flow Effects on Flow Meter Measuring Accuracy from the Vortab website: Product Literature
Contact VORTAB Company for any other required options or special features not listed above.